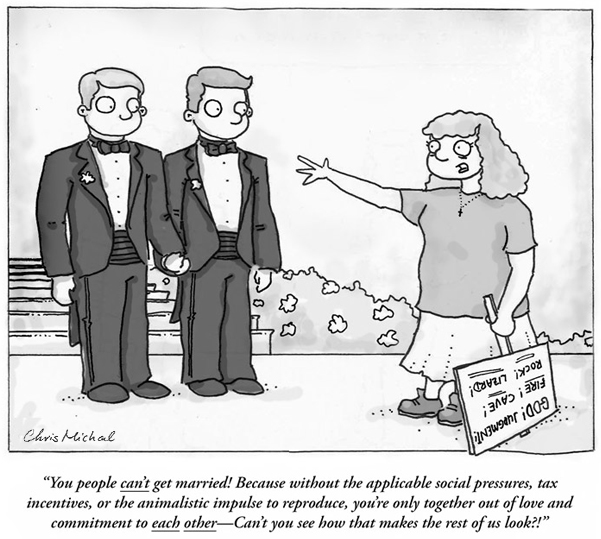 From the Huffington Post Posted:
In Arizona, it has been legal for gay/lesbian couples to get married since late last summer.
As a pastor who does believe marriage is between a man and a woman, I don't have a huge problem with this.
The problem I have is that there is small group of people within the gay/lesbian community that are trying to make a point by forcing people who do not agree with the lifestyle or marriage or both to accept it one way or another.
I say only a few because I know many gay/lesbian people and they are not about making points, though they do want to be heard, which are two separate things.
We have some "Christian" churches that deal with this topic in a very hateful manner. We have seen them on the news and there have been documentaries created about them. These people that call themselves Christian are filled with so much hate that as a pastor I have to think that there is very little room for God in their hearts. They give all other Christians a bad name because they have the bigger mouths and we as Christians tend to stay silent, which helps the media and others, combine us all into one group. Shame on us.
I truly believe that marriage is meant to be between a man and a woman, and that is my right as a Christian and an American to believe. Now that does not mean I hate gay/lesbians.
I do not believe they need to be treated differently. They are humans and Americans as well and have rights as well. I truly believe that most in their community feel the same way about most Christians, they know that all Christians do not hate them and agree that Christians have a right to believe what we do as Americans.
I am only talking about here in the United States of America. Unfortunately, other countries do not have the blessing we know as Freedom. (Sounds like another topic for the future)
A small portion of Christians believe hate is the way to treat the gay/lesbian population and some gay/lesbians feel they have to prove a point by forcing Christians, to do things against their beliefs. My focus will be on the few that are trying to prove a point.
I was honored to attend not one but two same-sex marriages in the past year. The first one was not too long after it was made legal in AZ. It was a small quaint ceremony at the home of the couple. They have been together for over 10 years I believe. The mom of one got up and shared how she had attended a church in Jackson MS, back in the 60's. That day, there were a crowd of gay and lesbian students from a nearby university outside of the church, wanting to attend the service. Some of the people from the church, would not allow them into the building. They were not being rude or flaunting anything, they wanted to worship God. When the Pastor got up to speak he stated he could not be apart of something where there was so much hate and He and the assistant pastor resigned and walked out of the church. The mother explained this with tears in her eyes, stating that she was excited and full of joy that her daughter could finally marry her partner.
The other wedding I attended most recently was a big to do. This couple went all out to express their excitement for being able to get married after many years of being together. The ceremony was in a church, which I have to admit I was a bit uncomfortable at first. It was a beautiful ceremony, and I have to say the reception was amazing.
These two sets of couples got married because they loved each other and just wanted to have the same rights with their partners as married couples have, such as Hospital rights, death benefits, etc. They are not trying to prove a point to anyone. They just want to be happy and be with the ones they love. I get that, I understand, again I may not agree with the lifestyle but who am I to judge? Who are we to criticize? Who are we to not like the fact that it is now legal for them to do so (did you vote?)?
There are many verses in the Bible, especially in the Old Testament, that speak to how the homosexual lifestyle is wrong and there was so much hate. Jesus came into the picture and things changed. Hate is not an option. Sin is Sin, from lying to adultery, from stealing to murder. Sin, no matter what it is, is still sin. No one is perfect, and those that claim they are, Ah! They are lying! A sin! LOL
God Bless
Your comments and discussions are welcomed, you can do so anonymously.
Coming up!
Why is it so important to make a point? Who are you trying to hurt?
If you truly love each other, why start off by suing people? is that really love?